Adam's Glacier Route, Mount Adams
posted Jun 16, 2010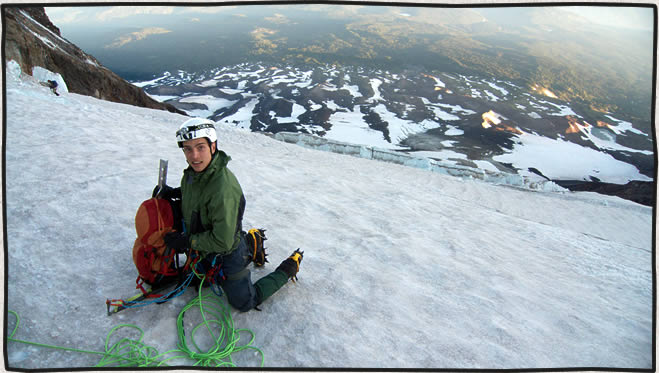 With seven of us on the climb this year it felt more like an expedition. We decided on the Adam's Glacier Route up Mount Adams several months before and trip reports I found before we left sounded promising. Rob and Ryan Doane, Adam Talianchich, George Martin, Paul Bostrom, Jamie Carlin and I summited the 12,276 ft Mt. Adams at 9am on July 23rd after 7 hours of climbing.
One of my employee destination guides on HomeAway features this route and photos.
Day 1 – Hike to base camp
Our first day was a travel to base camp. We left Seattle 9am and were at the Killeen Creek trail #113 in the Mount Adams Wilderness by 2pm. We had a relatively easy 5 mile hike ahead us that lead through forest and meadows teeming with relentless mosquitoes. The treeline ended as well as the mosquitoes as we crossed over rock moraine around mile 3. The last 2 miles took us by a large glacial lake and onto the glacier. Paul led us to a perfect camp spot on the snow behind a moraine just below the Adams Glacier. Most people camp at the glacial lake about a mile back but this spot proved to be the better choice for our group since we intended on spending an extra to practice some mountain skills the next day. It also offered us a shorter summit day since we were only a 45 minute walk from the start of the climb.
Soon to be finished, maybe..